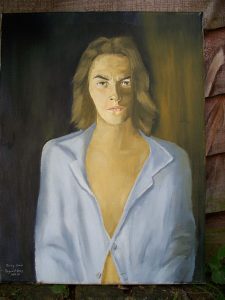 Tracey Emin is the popular British artist who is most famed for her Turner Prize-winning work 'My Bed.' The visual art installation depicted an unmade, dirty bed complete with used condoms and blood-stained underwear. It represented a period in the artist's life when she was going through emotional upheaval, drinking excessively and having casual sex on a regular basis.
Another of Emin's famous and controversial works was named Everyone I Have Ever Slept With 1963–1995. It was a tent that highlighted the names of every person she had ever had sex with which, once again, was met with disdain from some journalists and critics.
Emin shot to fame when an interview following her Turner Prize win was broadcast on Channel 4 in the United Kingdom. In the interview, Emin declared 'I'm leaving now, I wanna be with my friends, I wanna be with my mum. I'm gonna phone her, and she's going to be embarrassed about this conversation, this is live and I don't care. I don't give a fuck about it.'
Emin considers herself a rampant feminist and has since become a notable figure, regularly appearing on political discussion and chat shows.